Cloud technology stands as a pivotal driver of innovation, efficiency and adaptability in the digital era, proving to be a scalable and cost-effective way to do computing as organizations pursue growth.
HCLTech commissioned FT Longitude to conduct a survey of 500 senior executives from 17 different sectors in the Americas, Europe and Asia-Pacific. The results were published in a report titled "Cloud Innovation: Making Innovation a Habit" and delve into the relationship between business and cloud strategies, providing insights on optimizing cloud investments for enhanced business outcomes. The report identifies hurdles that impede the realization of the cloud's full potential, emphasizes the need to align cloud strategies with evolving challenges and offers practical recommendations to unlock the full potential of cloud utilization and foster innovation.
The Cornerstone of Adaptability
The majority of surveyed senior executives have had to pivot their business strategies at least twice within the last three years in response to global crises, economic fluctuations and geopolitical disruptions. During this period, the cloud has played a pivotal role in empowering organizations to swiftly adapt and respond to evolving customer preferences, cyber threats and sustainability goals.
Over 90% of senior executives credit cloud technology for their ability to aggregate and analyze customer data, utilizing AI for rapid adjustments in response to changing market demands. Additionally, cloud providers prioritize security, helping identify and thwart cyberattacks while ensuring business continuity.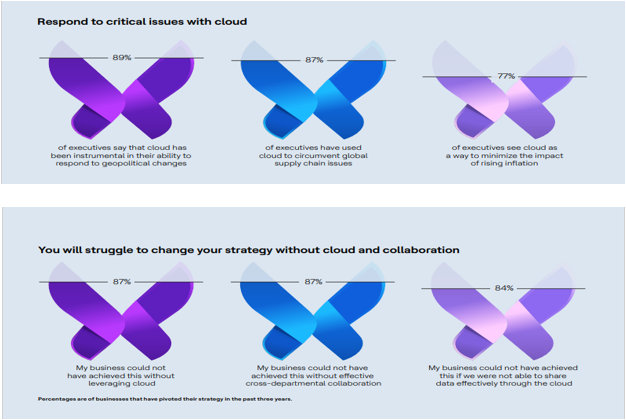 91% of senior executives believe that cloud technology is instrumental in supporting sustainability strategies. Organizations like Essar Oil UK are transitioning from paper-based systems to cloud-based solutions, streamlining operations and reducing paperwork. Cloud serves not only as an efficient business platform but also as a resilient technology backbone, facilitating cost reduction through innovative applications, workflows, and data strategies.
87% of respondents feel that cloud technology has enabled businesses to manage remote workforces and workforce reductions efficiently. In sectors like financial services and healthcare, the cloud plays a crucial role in delivering services such as mobile banking and telehealth.
Also, the cloud is considered a critical factor for success by the majority of executives in these industries. Leaders in industrial manufacturing and consumer services also recognize the cloud's pivotal role in strategic pivots during challenging times.
ASEAN Senior Vice President at HCL Tech, Sandeep Sarkar, emphasizes the transformative potential of cloud technology in driving innovation and success. He underscores the significance of aligning cloud strategies with evolving challenges, such as data security, sustainability, talent shortages and the adoption of advanced technologies such as GenAI, to foster innovation and business growth.
"There is a consensus among senior executives on the role of cloud technology in supporting sustainability strategies. Cloud has not just been an efficient business platform but a resilient technology backbone, facilitating energy usage through innovative and optimised infrastructure deployments." he stated.
Cultural Transformation for Innovation
The survey found that 73% of leaders feel their company is just beginning to utilize the potential of cloud technology, indicating a positive future for modernization. Furthermore, 82% believe that using cloud technology more can give their organization a competitive advantage. However, 59% of leaders think senior executives do not understand that their business strategy should drive the implementation of cloud technology, which is the main obstacle to progress.
This disconnect between perceived potential and actual impact is consistent across industries, especially in finance, where organizations are not fully maximizing cloud technology. Security and privacy concerns are the top factors influencing this sentiment, showing that doubts about data protection and customer safety may be affecting financial companies' cloud strategies. Company culture plays a crucial role in either supporting or hindering innovation in the cloud.
A significant 58% of senior executives attribute any hindrances to innovation within the cloud-project context to a certain reticence within their organizational culture. Companies, especially in sectors where the cloud is integral, must cultivate a culture that values innovation, speed and flexibility. Leaders should provide support to help employees embrace the changes that come with cloud adoption.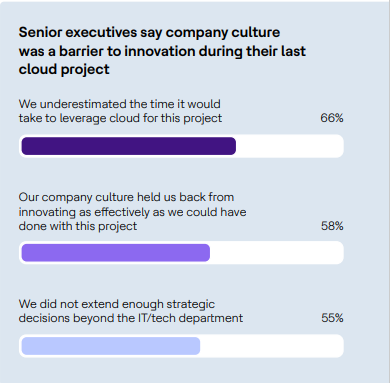 Bridging the Perception Gap
A gap in perception exists between IT and business leaders regarding cloud awareness and collaboration. Effective communication and collaboration between departments are crucial for successful cloud strategy implementation. Organizations must define clear business outcomes for each cloud project, emphasizing the importance of cross-departmental collaboration.
IT leaders and business leaders have different perceptions of their companies' understanding and utilization of cloud technology. While 91% of IT leaders believe that cloud is well understood across all departments, only 78% of business leaders share this confidence. Additionally, 86% of IT leaders claim that most all know how to access cloud expertise and regularly discuss cloud strategy, whereas only 78% of business leaders hold this same perspective. 90% of IT leaders reported sufficient communication between the IT team and the entirety of business departments regarding the potential for innovation through cloud technology. This view was shared by only 81% of business leaders.
Notably, among those organizations using cloud for their business goals, 34% struggle to define clear outcomes for each project.
Embracing Cloud for Innovations: A Five-Step Plan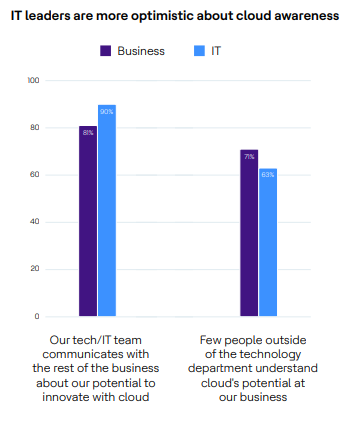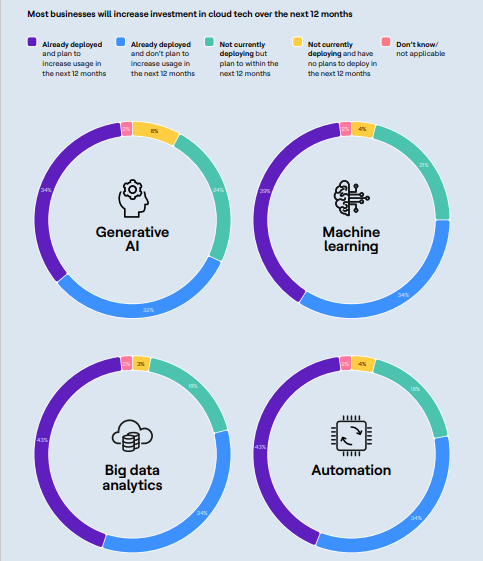 Source: HCLTech
To make such cloud innovation habitual, organizations can follow these five key steps:
1. Leverage Cloud Technology: Embrace the cloud as a business platform to enable agility and flexibility in responding to critical issues and adapting business strategies.
2. Cultivate a Cloud-Friendly Culture: Foster a company culture that embraces the cloud's flexibility, resilience, and innovation throughout the organization.
3. Break Down Silos: Involve CIOs and CTOs in strategic decisions and encourage collaboration between IT and business departments.
4. Increase Awareness: Raise awareness about the benefits of cloud technologies across the entire organization using case studies, presentations, and deliberate planning exercises.
5. Integrate Transformative Technologies: Incorporate transformative technologies like AI into your cloud strategy, ensuring alignment and integration to unlock their full potential.
Cloud technology is both essential and extremely beneficial for businesses that want to be innovative and stay ahead of the curve. Senior executives understand that using cloud technology is not just about adopting a platform; it is also about creating a culture of adaptability, breaking down barriers within the organization and driving innovation in order to achieve success.